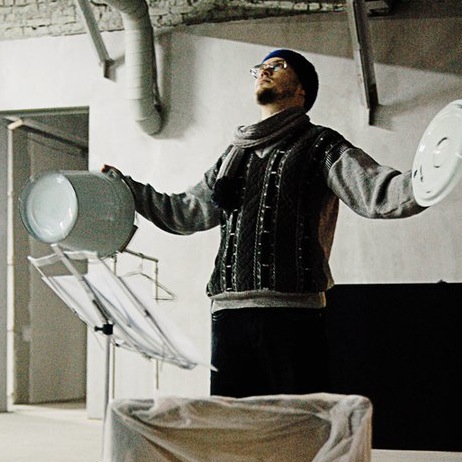 Was born 11.04.1984 in Tomsk where he had carried out his musical education as a violinist and composer at the Edison Denisov Music College. In 2002 Georgy won J.-S. Bach International Competition Award as a violinist. Since 2004 he is a student at the composition faculty in Moscow Tchaikovsky Conservatory and work with Vladimir Tarnopolski.
In 2009 Georgy participated in the Session de composition "Voix nouvelles" in Fondation Royaumont (France), where he attended lectures Brian Ferneyhough, Isabel Mundri and Misato Moshizouki.
He attended the masterclasses of Krsystof Meier (2007), Alain Gaussin (2008), Martijn Padding (2009)
His works have been performed at the I and II International Festivals of the Contemporary Music devoted to the memory of Edison Denisov (2003, 2004. Tomsk), International Festival "Edison Denisov Space" (2006. Moskow), "Pythian games" (2008, St. Petersburg ), International Festival of the Contemporary Music "IS ARTI" (2008, Kaunas), Kiev Musicfest (2008), XXX Festival of the Contemporary Music "Moscow autumm" (2008), Festival of the Contemporary Music "Another space" (2009, Moscow), in the cycle of concerts "Joseph Haydn. Playing at Classics" (2009, Moscow), "Frank Opera Fest" (2010, Ivano-Frankovsk) and others.
In 2010 his work Under Construction has been selected to be programmed at The 2010 ISCM World New Music Days Sydney (Australia)
Georgy won the IV and V Yourgenson young composers international competition diploma and I Edison Denisov young composers international competition (EDES) diploma. Also Dorohov's works had been performed in program of the second round of the young composers international competition"Pro Arte" (Saint-Petersbourg, 2008)